82% Nationalised RBS Under Investigation For Iran Sanction Violations.
RBS investigated over possible Iran sanctions violations – FT
Report of investigations by Federal Reserve and department of justice follows $340m settlement by Standard Chartered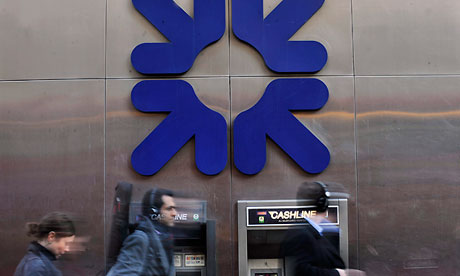 US authorities are investigating
Royal Bank of Scotland
for possible violations of sanctions with
Iran
,
the Financial Times reports
.
The
Federal Reserve
and department of justice are conducting the investigation, the paper said, citing several people close to the situation. The investigation comes after the British bank volunteered information to US and UK
regulators
18 months ago, the Financial Times said.
Ed Canaday, a spokesman for RBS, declined comment.
But in its quarterly report filed on 8 August, RBS said it had "initiated discussions with UK and US authorities to discuss its historical compliance with applicable laws and regulations, including US economic sanctions regulations". The bank said it could not predict the outcome of those discussions.
RBS made a similar disclosure to investors 18 months ago.
A spokesman for the Federal Reserve said it could not "comment on supervisory matters pertaining to individual institutions". A representative at the justice department did not respond to a request for comment.
The report of the investigations into RBS followed last week's $340m (£215m) settlement by Standard Chartered. The British bank had been accused by the New York Department of Financial Services of concealing $250bn in Iranian transactions.
The Financial Times said the New York state agency was not investigating RBS.
In 2010, RBS agreed to pay $500m to settle similar allegations by US federal authorities that ABN Amro, a Dutch bank RBS acquired in 2007, had violated US sanction laws.
Source
So what can we expect to come of this? In all honesty I believe that even the most naive are beginning to realize that these too big to fail financial behemoths are operating above the law. They quite simply hold the nations they reside in to ransom. To quote a Rothschild.
"Give me control over a nations currency, and I care not who makes its laws"
What I expect to see here is a small fine. Now I say small in banking terms. It will probably amount to less than the profit made by the crime they are being fined for. Which is about as useful as a snooze button on a smoke alarm. Or Tony Blair as Peace Envoy. But lets face it, it isn't meant to be fair. The idea is to settle the issue as efficiently as possible in order to placate the masses. Basically they will receive a light spanking. Nothing more!
A few months ago RBS enraged the entire United Kingdom with a catastrophic computer glitch. They informed the masses that it would be dealt with swiftly and that no customer would be left destitute. As always with Banks, it was a complete and utter lie.
I was unable to access any of my funds for 2 weeks. I could not pay my bills. I could not feed and care for my family. Their call centers were woefully inadequate. After roughly £50 worth of phone calls I managed to get hold of somebody who was offering me £13 to feed and care for my family until the system was restored. That was an offer I abruptly turned down as that would just about cover 1 container of baby formula. (I have 2 children) so asked to speak to that persons manager who informed me "We have strict guidelines that we cannot deviate from" To which I responded "I have an opportunity to appear live on the national news this evening. They would like to interview me because your company has informed them that the problem has been resolved and that you are taking care of your customers needs" He then replied "Could you hold for 1 moment while a make a call" So I said "yes" (Cue the crappy 80s porno music) The manager then told me "I can give you £50 until the issue is resolved" I said "I will accept no less than £100 if not set your TV box to record BBC1 at 6pm and you can put a face to my name"

I got my £100 but the vast majority of people affected were left destitute!